THE GOLD STANDARD OF EDISCOVERY SOFTWARE
Relativity brings the entire e-discovery process together in one extensible platform, connected to your organization's most sensitive data—and supported by the community of experts you need to untangle it all. With the latest in advanced searching and analytics, machine learning, and visualizations all built in, Relativity is your complete platform for organizing data, discovering the truth, and acting on it.
INCLUDED - Embossing/Bates Stamping

INCLUDED - Brainspace Analytics

INCLUDED - Creating image files (.tiff files)

INCLUDED - OCR

INCLUDED - Training/onboarding

INCLUDED - Productions

INCLUDED - Project management time
PLUS MORE!
​
Clients demand simple, predictable pricing for eDiscovery costs. LS365 offers one of the industry's best legal eDiscovery software that is user friendly, self-servicing and bundles all e-discovery costs and fees into a single monthly charge, ELIMINATING separate fees for user licenses*, hosting, data processing and other fees. One Simple fee covers it all.
*Free user licenses are only included on data projects of 100Gb or more. Free user licenses are limited to 5 licenses per matter. Regular user licenses are $50.00 per user/per month.
REVIEWING SHORT MESSAGE DATA JUST GOT EASIER!
Text, chat, and Slack messages can add thousands of communications to your reviewers' plates. Focus on the good stuff with short message filtering. Just one the new features in Relativity.
Complete, Connected eDiscovery Software
​​
Used by organizations around the globe to review and analyze data around litigation, investigations, government requests, and more, LS365's Relativity brings the entire eDiscovery process together in a single solution.
Quickly analyze and synthesize processed data in the cloud to assess the overarching facts and determine case strategy.
Understand Your Data
View important information about your data—like file formats, volume, and date ranges—while examining custodians and key concepts. Use this analysis to gauge the size and scope of your case and prepare for meet-and-confer conferences.
Cut Through the Noise
Use Relativity Analytics to defensibly eliminate non-relevant data, reduce data volumes, and simplify downstream review.
Do More for Less
When you conduct early case assessment in Relativity, you pay a reduced data rate—but still get access to the advanced analytics tools that help you conduct a thorough assessment and weed out irrelevant documents.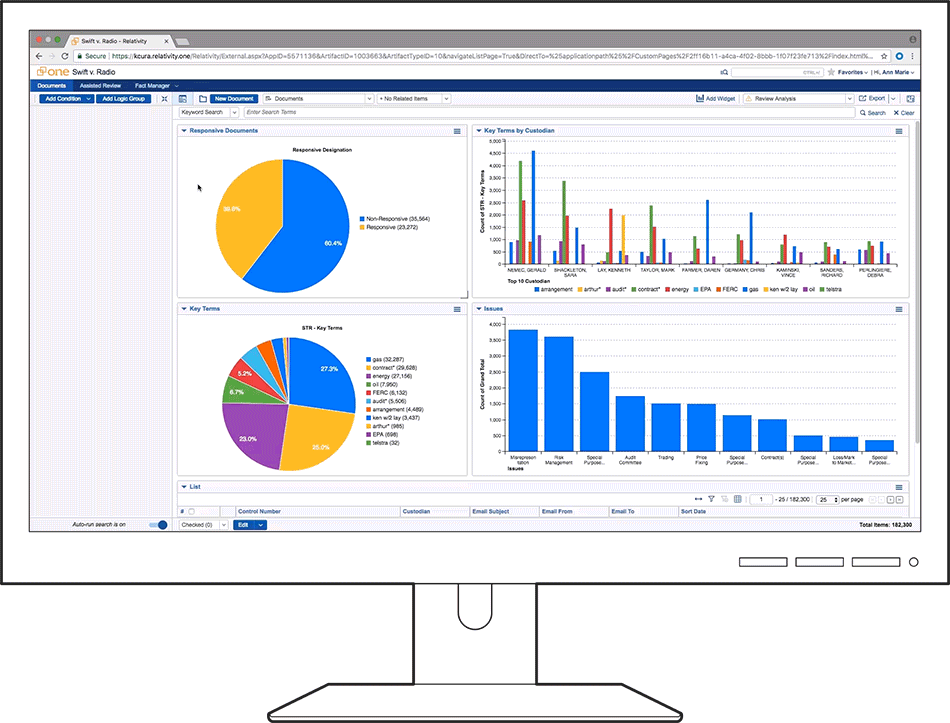 Integrated Data Analytics
Take advantage of the latest in advanced analytics, machine learning, and visualizations to quickly sift through volumes of unstructured data and uncover the facts.